Moderator: Spietfriek
Glider how did you mount the cradle on your HQ-701 ?


Skickat från min iPhone med Tapatalk
Gilbo

wrote:

↑

Sat Aug 24, 2019 2:15 pm

Hi,

Stumbled upon this topic and since I want to change from gps to tablet I have some more questions.

How is use of the tab 2 in direct sunlight? Did someone put on a semi matt or matt screenprotector?

How does is perform in winter at low temperatures?

Are there some more pic's or video from the Tab 2 mounted and/or used for navigation?

Thanks!

Gilbert
Here's a
video
. Sun light is not a big issue as in glare. However, smartphones and tablets can overheat and black out. When riding in 27C weather and taking a break the screen can black out. As soon as you start riding the wind will cool it.
Thanks, ordering one now and will take it with me to Morocco in a few weeks. Curious how it will perform.
Just make sure you bring extra usb-c cables. I had two incidents where the usb-c plug going into the tablet bent or broke. I do use the tablet vertical instead of horizontal with the usb on the bottom. Never understood why everyone goes horizontal? I want to see what is ahead of me and not on the side so much :-)
Sorry for late reply.
Screen in direct sunlight is not very easy to see, even with a matt screen protector I placed immediately as soon as I unpacked the tablet.
I intend 'direct sunlight' as worst scenario: sun on my back with light reflection from screen directly in my face.
In this case the matt screen protector cannot do miracles, but as soon as the sunlight changes a bit the angle, the screen is visible with enough clarity even in the brightest sun, even if not easily as a Garmin Montana reflective screen.
This is a picture on a bright but cloudy day with matt screen protector, I don't remeber if the brightness was at maximum level.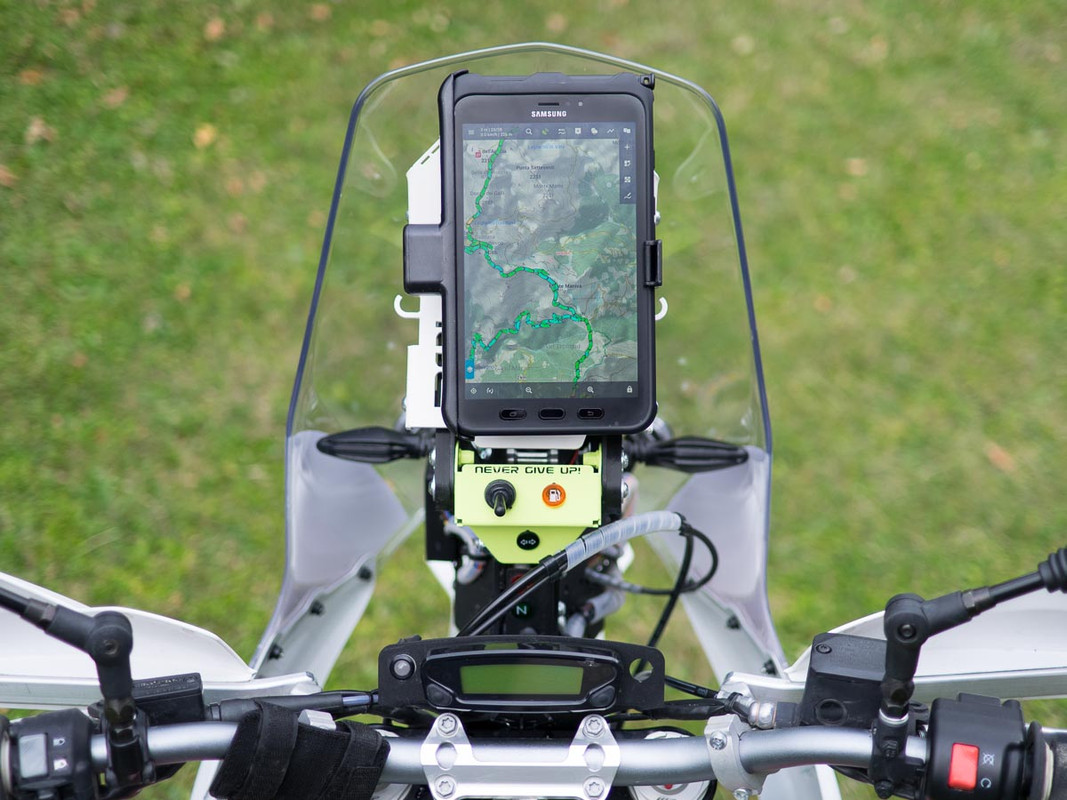 The cradle is a RAM one, code RAM-HOL-SAM7PU, fixed to Aurora Rally navigation tower standard plate with four vibration dampers screwed in the four RAM sockets and two other rubber dampers that support the cradle in the upper side.
It doesn't vibrate even on fast rocky tracks.
I already described in this thread the troubles I have with power and recharging, currently done through a standard USB cable.
I recently met a friend of mine who is using the same tablet with a Brodit cradle, he said he has no problems to power and recharge the tabled through POGOs pins.
Maybe it's worth a try, but Brodit power supply is rated 1 A while I measured up to 1,4 A during battery charging + full brighness + Osmand and Locus running.
Still searching for a definitive solution for rainy weather and needed current.
I bougth the Active tab last spring, so I have no idea how it performs in cold winter, but two weeks ago during Hardalpitour Classic 2019 in Italy I used almost all night between 500 and 2.500 mt altitude in the Alps few hours and it worked flawlessly, going from rain at 1.000/1.500 mt to dry and cold dawn at 2.500 mt.
Locus has the possibility to show the inner temperature of the tablet on screen and even if the air temperature was around zero C, the tablet never went under 10 or 11 C.
Gilbo

wrote:

↑

Sat Aug 24, 2019 2:15 pm

Hi,

Stumbled upon this topic and since I want to change from gps to tablet I have some more questions.

How is use of the tab 2 in direct sunlight? Did someone put on a semi matt or matt screenprotector?

How does is perform in winter at low temperatures?

Are there some more pic's or video from the Tab 2 mounted and/or used for navigation?

Thanks!

Gilbert
Winter I don't know however, it is just like a smartphone so sunshine and temp are also just like a smartphone.
I have this tablet in a Brodit cradle/mount on my 690. With it on all day it does not keep the tablet charged enough. It certainly slows down the process of running the battery flat but wouldn't be powered up by the end of a long day. To avoid having to charge it at night off the bike I now have a direct feed from the battery for charging and it works great but still keep it in the Brodit cradle/mount.
Plodder,
thank you for your feedback, your experience confirms my suspect: Brodit 1A maximum current is not enough to recharge Active Tab.
To avoid having to charge it at night off the bike I now have a direct feed from the battery for charging and it works great but still keep it in the Brodit cradle/mount.
This is interesting, it is the same problem I had with two different USB chargers: even if they are rated 2A, the tablet takes only 1,4 A through USB cable and this is not enough to charge it with Locus/Osmand running and screen working at maximum brightness.
Since you connected it directly to 12V, I suppose you are charging the tablet through POGO pins, otherwise a 12V-5V current transformer would be necessary to use a USB cable.
I already tried this way with a dedicated 12V-5V 5A transformer wired to RAM cradle POGO connector, but it was worse than USB cable, so I supposed the vibrations caused the problem, as Didado said.
Could you please give me more details?
Did you reduce the voltage from 12V to 5V?
Thank you.