Hi all,
Was wondering if anyone has already ridden sections 1-4 of the Italy TET this summer yet? Any tips or advice?
I am doing research for this section of TET and have the following info so far for these sections:
Northern end of section 1 and Western end of section 2
These are where the really high and spectacular stuff seems to be on the Italy TET
There is the
Col del Sommeiller
- right on the western edge of the TET track. It is a no through part which winds up to the old pass which I think is now a dead end.
You can watch some guys ride to the top here
https://www.youtube.com/watch?time_cont ... P_NPV1197k
TBOMK it is 5€ at a toll gate at the bottom and the trail starts right at the location of the Sommeiller tunnel entrance.
About half way in section 1 is the
Passo della Gardetta
https://www.dangerousroads.org/europe/i ... detta.html
with the mountain refuge you can stay in
http://www.rifugiogardetta.it/pagina.asp?id=1
Then there is the
VIA DEL SALE
which is on the western end on section 2
http://www.limoneturismo.it/pagina.php?id=76&lang=eng
This is supposed to be a spectacular road section
It costs 15€ and seems to be a good idea to book your day pass ahead of time since there is a quote system that only allows a fixed number of vehicles per day
The road is closed to motorized vehicles on Tuesdays and Thursdays and is open 29 of june to 13 oct.
So here is a screenshot of the map. Yellow is section 1. Red is section 2
The NW shaded area is the Sommeiller and the other shaded area is VIA DEL SALE.
Its a bummer that VIA DEL SALE only opens at the end of June. It is quite late in my program, so I am considering skipping this whole section (Sommeiller and VIA DEL SALE)and cutting down to the section around Pramollo (purple detour)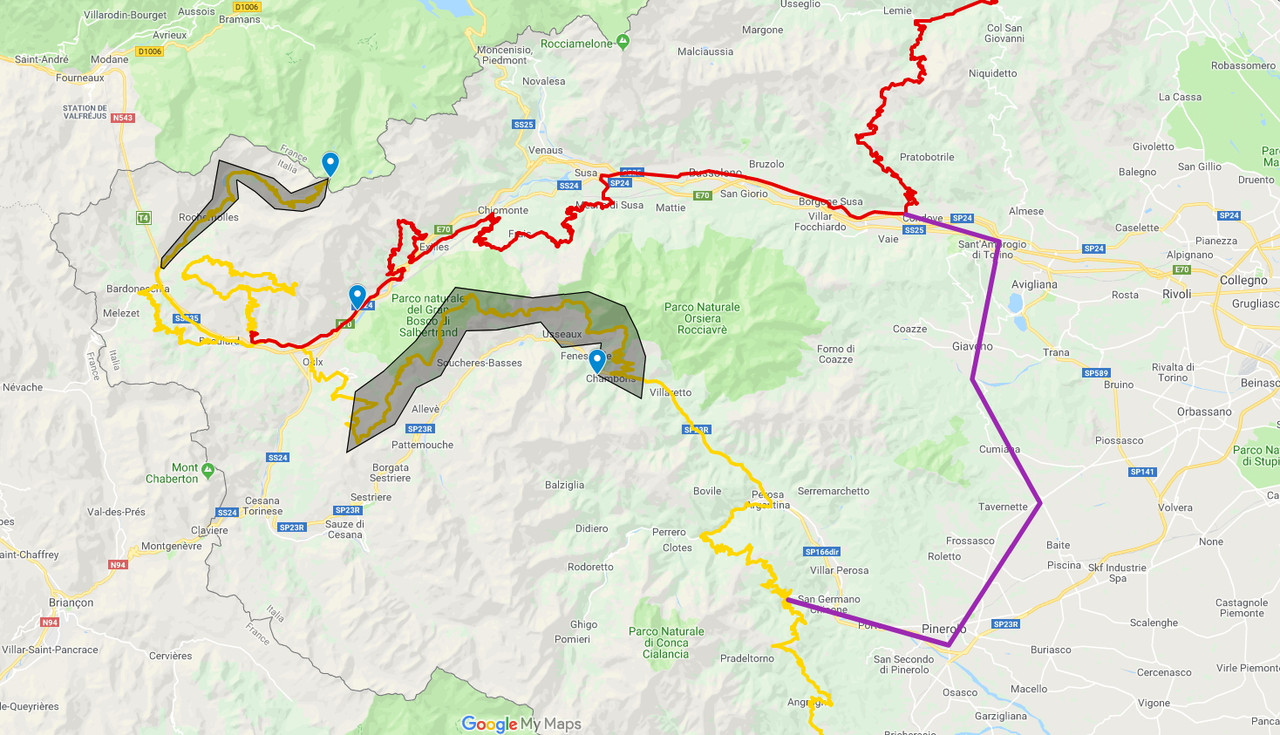 The
Passo della Gardetta
is still south of here so I will not miss it.
_____
I have 3 weeks starting 14th June so the current plan is to ride south from Switzerland and join the TET around where that little marker is on the larger map below just west of Lugano, ride the TET but thatke the purple detour south. When I hit the coast, spend a few days on the beach on the med, then the TET back and do the missed section.
For completion, here is the overall map. The TET section are marked alternating in red and yellow.