This is a trip report I posted over at ADV Rider. I am also posting it here as a token of thanks for those behind the TET trail giving me the idea to explore this region.
My wife kindly let me have ten days of holiday away from the family in Switzerland.
The trip was initially inspired by the TET route, but I quickly realized that to ride the TET proper for any interesting country will take way longer than ten days -- including getting there and back. So instead I decided to concentrate on just getting to Romania from Switzerland and then explore some trains on the TET route closest to me. This turned out to be a good idea.
Here is where I slept each night, as a rough indicator for the route:
Night 1: Chiemsee, DE
Night 2: Kecskemet, HU
Night 3: Nyirbator?, HU
Night 4,5,6: Baia Mare, RO
Night 7,8,9: Zemplen National Park, HU
Night 10: Chiemsee, DE
So as you can see roughly half the time was "wasted" on highway miles just getting there and back again. However, the terrain I found in Romania and the Slovak/Hungarian border was way more romantic and adventurous than anything I experienced in closer places such as Italy or Germany, as far as legal trails go, anyway -- so I thought it was time well spent.
The Romanian TET starts at the Ukranian/Romanian border in the north and then follows the Carpathian mountains in an arc toward the south. I quickly realized that there isn't one particular trail -- there is actually a dense network of sheep herding trails up in the highlands and it would be just as sensible to book a room for three days in Baia Mare, and let it be my base camp. From this base camp I then explored the trails in the mountains above for three days. This had the benefit of not having to carry around all my luggage for the actual off-road days, which made them significantly more enjoyable. I have to mention that the trip form base camp up to the high lands is over a pristinely paved serpentine road with very little traffic that would even make some Swiss mountain men jealous.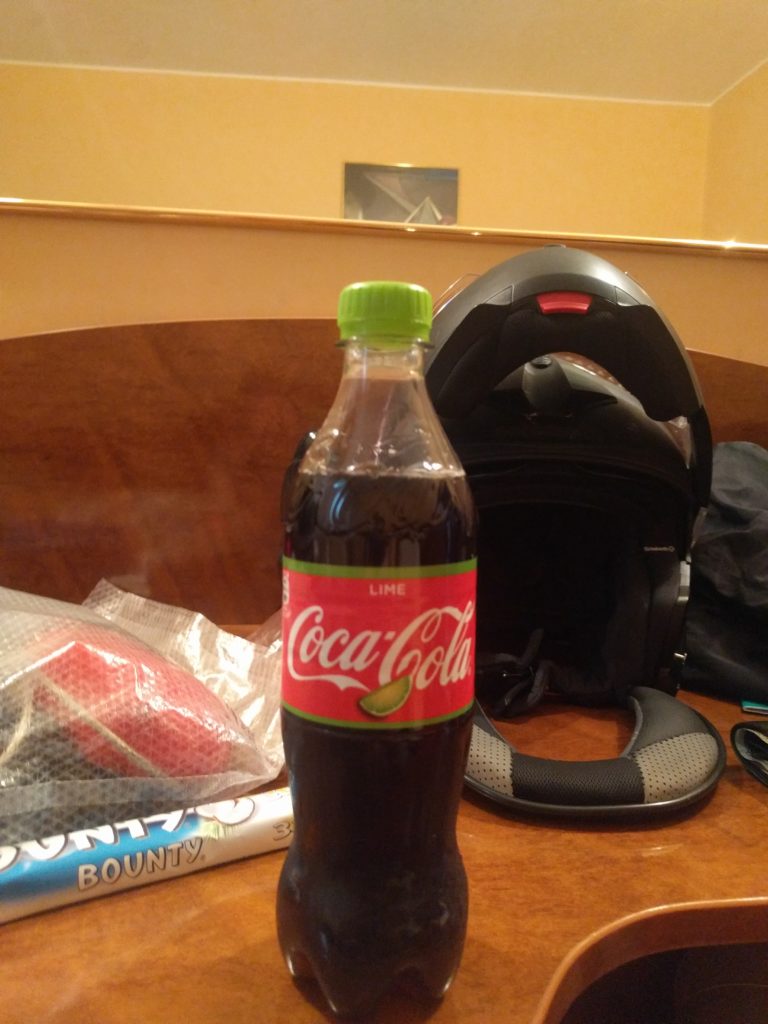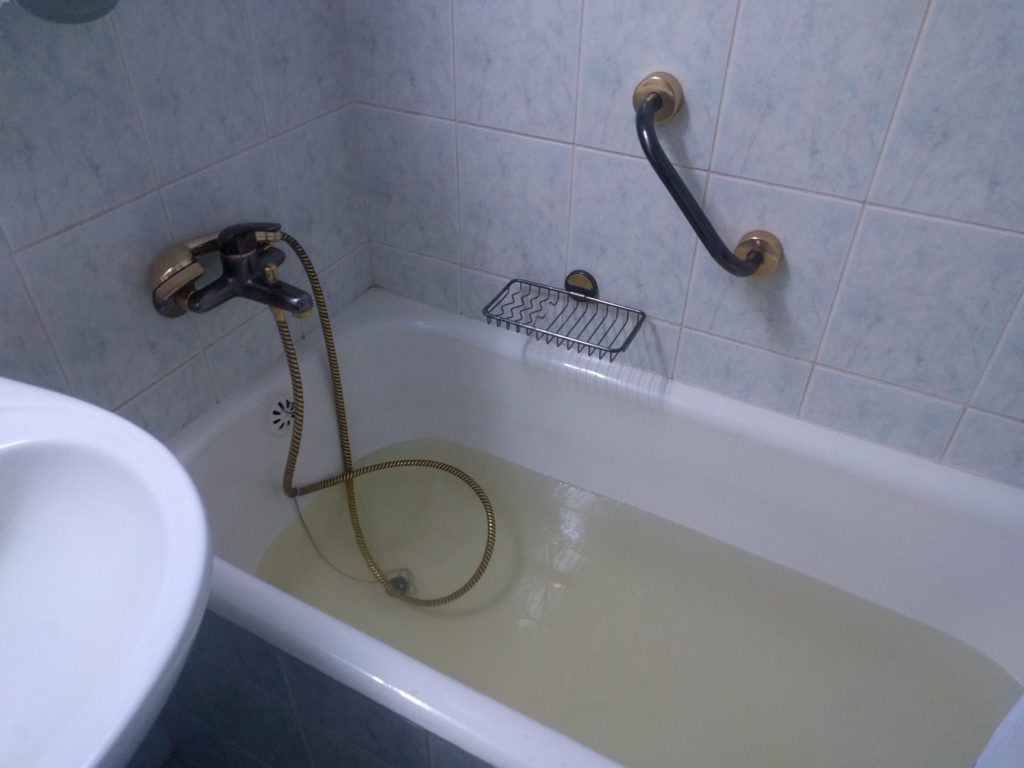 [Only in Romania: Lime Cola and Golden showers. (Yes, that's the color water that comes out of the tap, I didn't pee in it I swear.)]
The best thing about these Transylvanian highlands is that they are maybe a 30 minute ride away from the nearest settlement yet they often make the impression that they are completely abandoned. You might see a derelict building here or there on the horizon, but there is NOBODY there, except for the occasional shepherd and their sheep. Yet it is varied: There are forests and forestry roads, gravel roads to abandoned mines, and rolling meadows. But there seems to be no forestry operation, the mines look like they have been abandoned.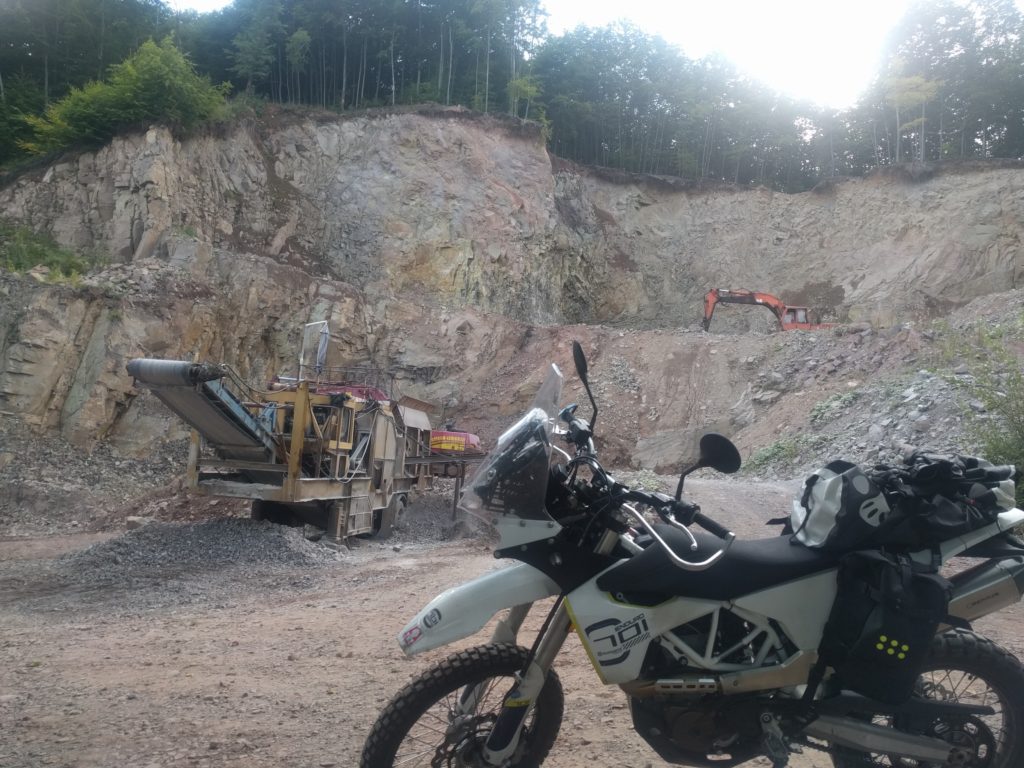 The loneliness and desolation reminded me of Mongolia or Siberia, and that's a good thing. You can't feel like this anywhere in Western Europe as far as I know.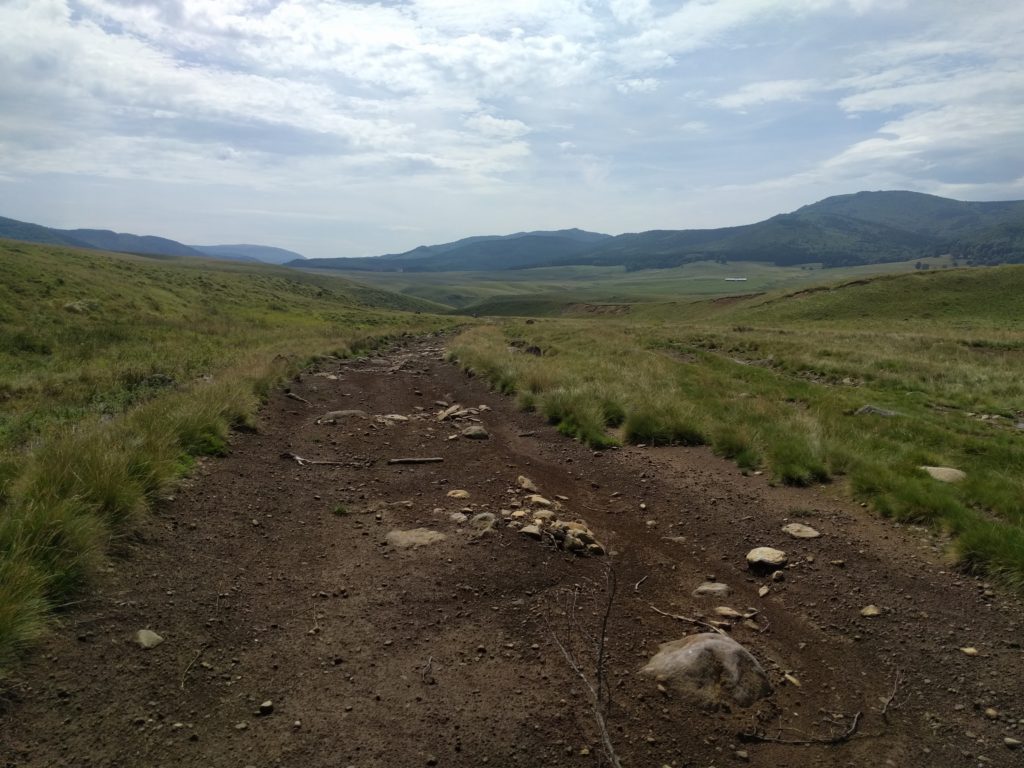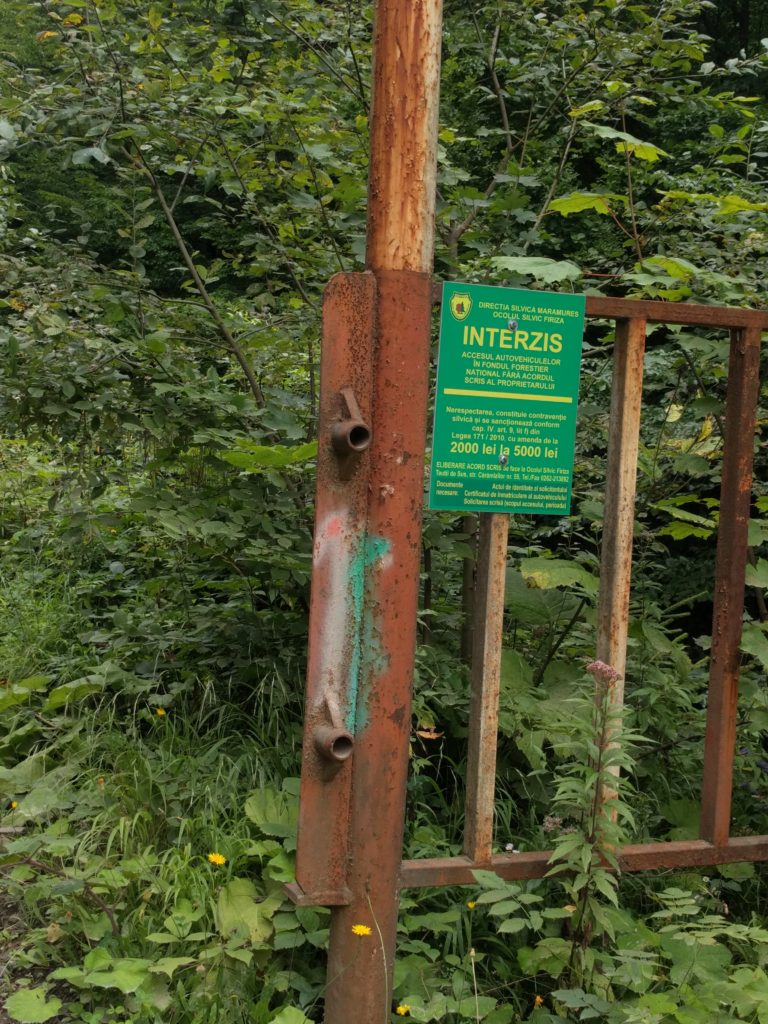 [Not sure what this means. I guess something along the lines of "Bikers Welcome!"]
The scourge of Transylvania is not Dracula -- but something with similarly fearsome teeth: Dogs! There are big packs of stray dogs that roam the cities -- I have seen a pack of six or seven dogs stop traffic on a three lane inner city road as they roamed across it -- and there are the full time employed working dogs of the shepherds in the high lands. Neither are fun or cute.
My first encounter with stray dogs was one time I was doing a checkup of my bike in the evening after getting back from a day's ride. I saw a local couple on bicicles pass along the street in front of the yard where I was parked. A minute later they were riding back in panic as two big dogs chased them back. The woman rode into my hotel's yard and took shelter behind my bike. The man stopped outside but was surrounded by the dogs. Still geared up, I whipped out my knife and went toward the dogs who at that point ran off. They briefly thanked me and cycled off...apparently this is a normal thing here.
The second encounter was more dangerous. I was riding along a muyddy forest trail in the highlands with no living thing in sight when after turning a corner I see a pack of six very determined looking sheep dogs lined up across the road like they have been expecting me, maybe 50 meters away. The herd of sheep was sitting in a clearing just off to the side of the road. I don't think I even contemplated stopping as I really needed to get through this road in order to go home -- so I accelerated hard and went straight for the dogs. On passing the dogs I saw the shepherd was lying in the road ditch in a stupor, not entirely surprisingly. If I had to look after stinky sheep all day I'd drink myself to death too, so he has my absolute sympathies. Unfortunately the dogs were not at all drugged and took up the pursuit like their lives depended on it. For all they knew I could have been a bear on a bicicle going after their sheep so I have no grudge against them either. I now know that the fastest I dare to ride on a muddy rutted forest trail is approximately the sprinting speed of a big scary dog. Fortunately just before I set off for the trip I decided to buy a pair of SIDI ADV boots which though surprisingly comfy were entirely unnecessary for the trip up to this point. Now however one of the dogs decided to grab me by the heels, quite literally, and I am pretty sure this would have hurt in my regular leather touring boots I would otherwise have worn. The SIDIs didn't even get scuffed. The dog didn't latch on, just took a nibble and then got left behind. More problematic were the two dogs who were dangerously close to jumping in front of my front wheel. I was really worried about going down and becoming a snack. Fortunately they eventually ran out of breath and let me be.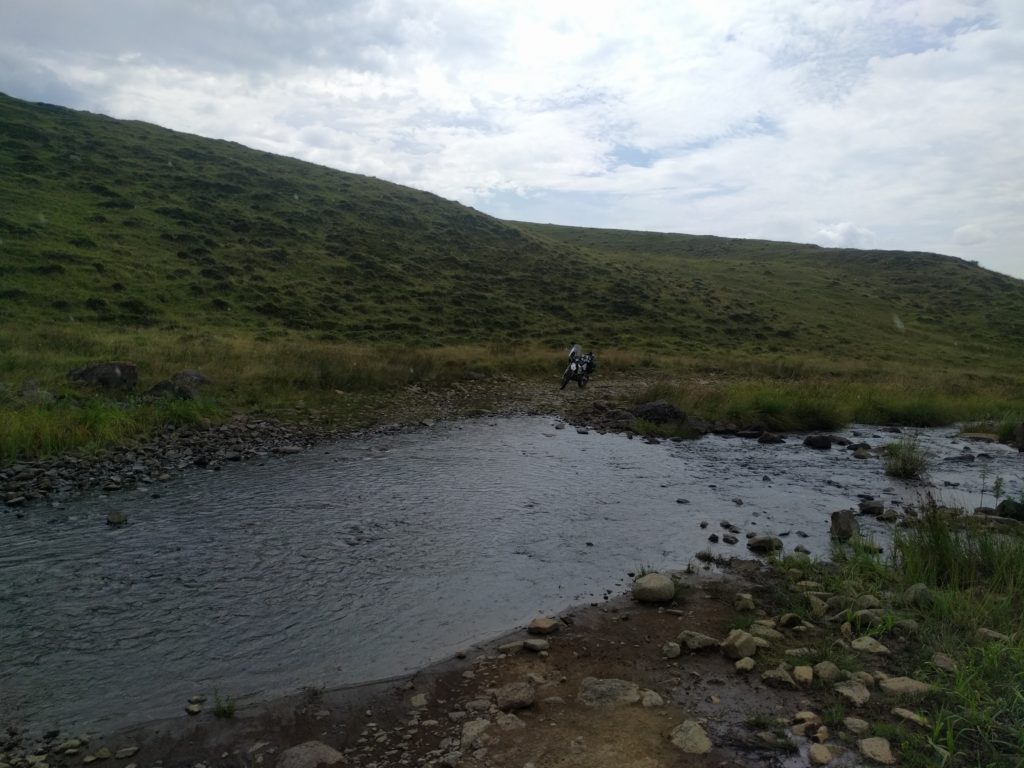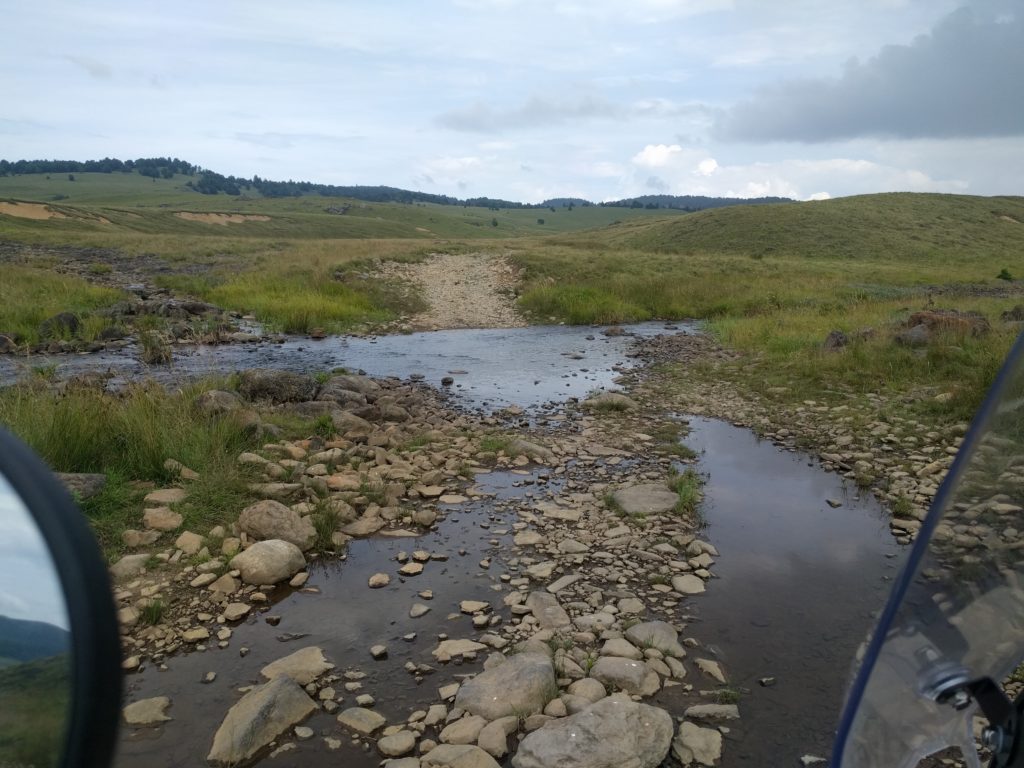 The next day I was again up there and just climbed across a steep muddy section (after several stream fordings -- first time for me!) when I saw a bunch of sheep dogs again checking me out, this time from quite a bit further away. However to continue along my trail I would have had to pass right next to them, and to make matters worse it was right along a very steep section which I wasn't sure if I was going able to navigate on my fist try even without dogs. So I did the sensible thing and turned around. This was the second of several situations where I thought I'd press on if I had buddies along but it was getting too risky to continue on my own. The first time was when a bunch of large bounders were collapsed across the trail and there was only a very tight path left where if I slip I drop the bike into a deep ravine from where there is a good chance that I cannot recover it by myself.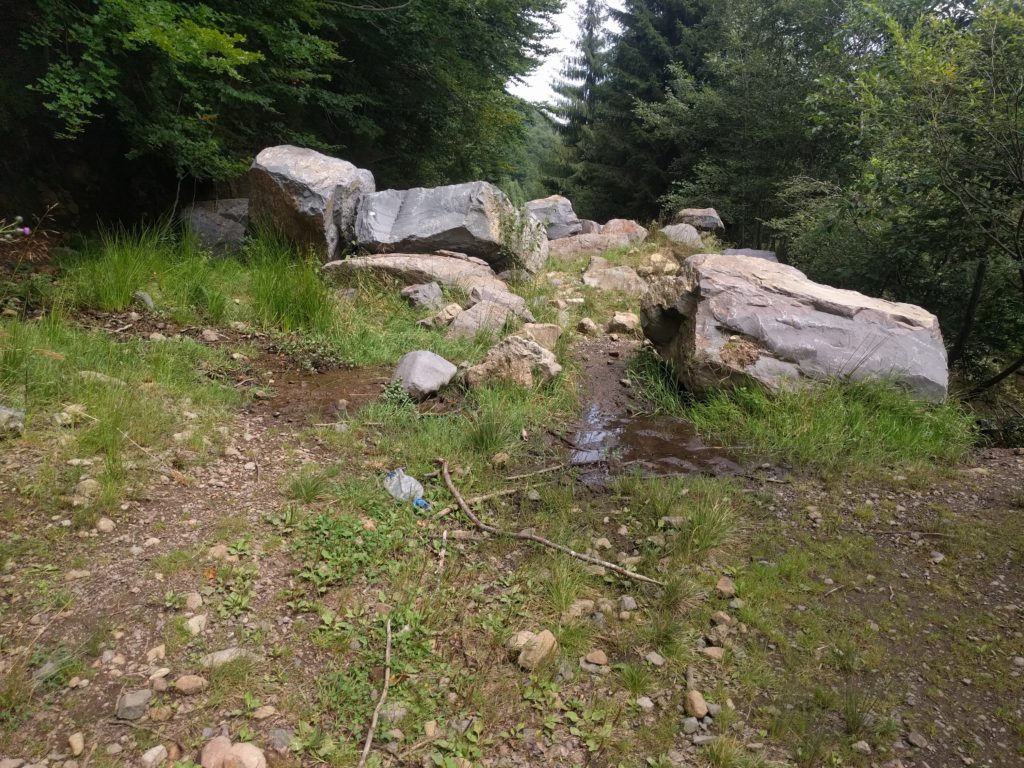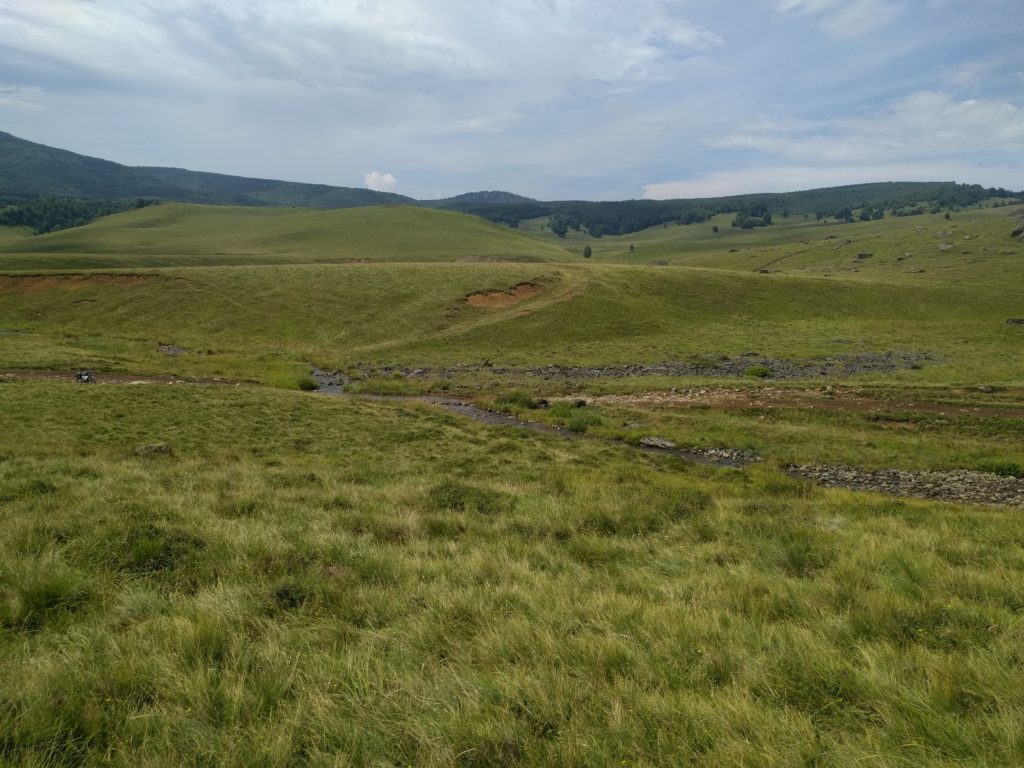 [Where is waldo?]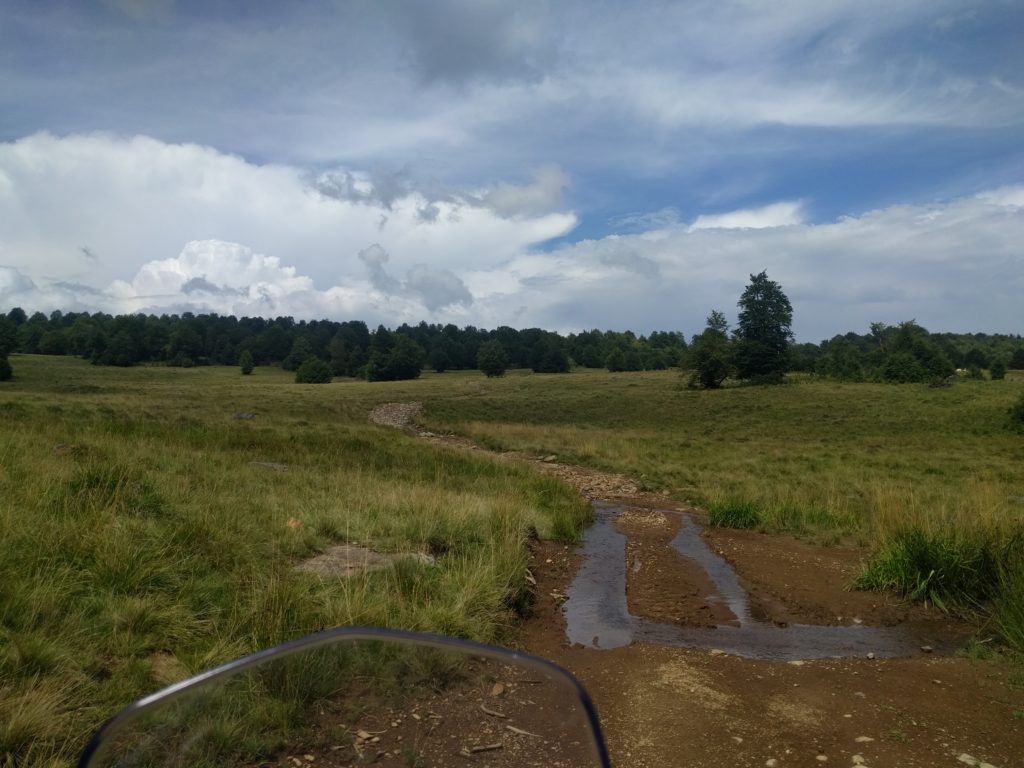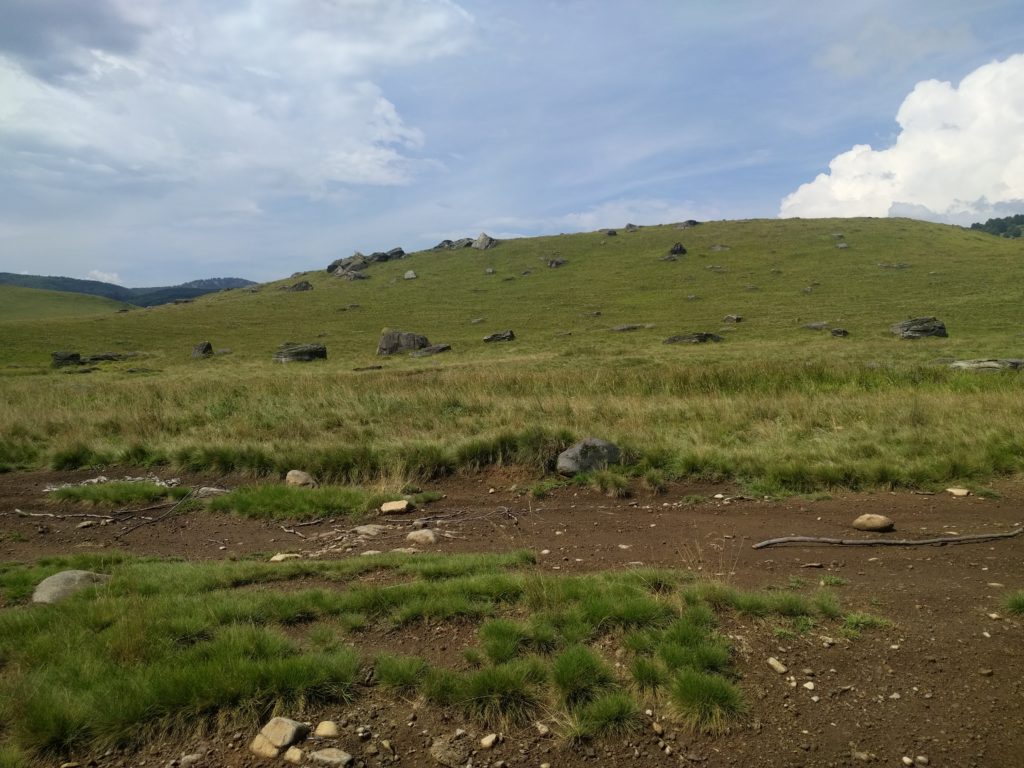 The next day I decided to go looking for more off-roading but with less dogs elsewhere. A good rule of thumb is that flat areas are rarely very adventurous for ADV-riding, and most of Hungary is flat. I had to ride back through Hungary in order to get home, and there is a little of mountains up north, so I headed that way, to the Zemplen national park.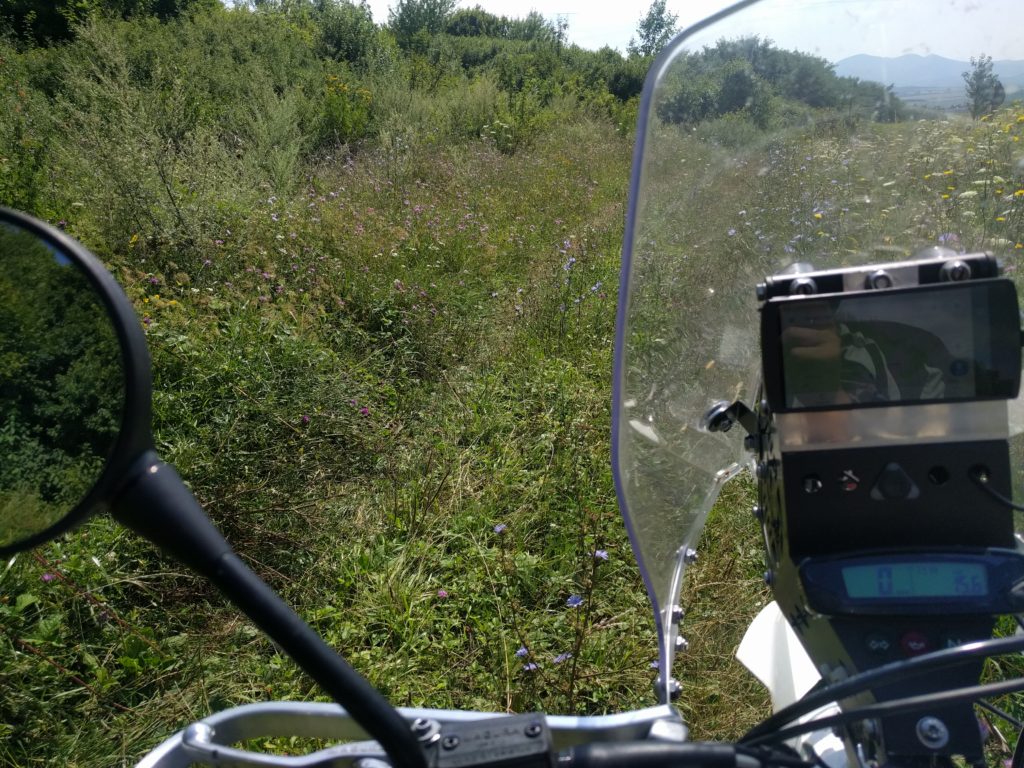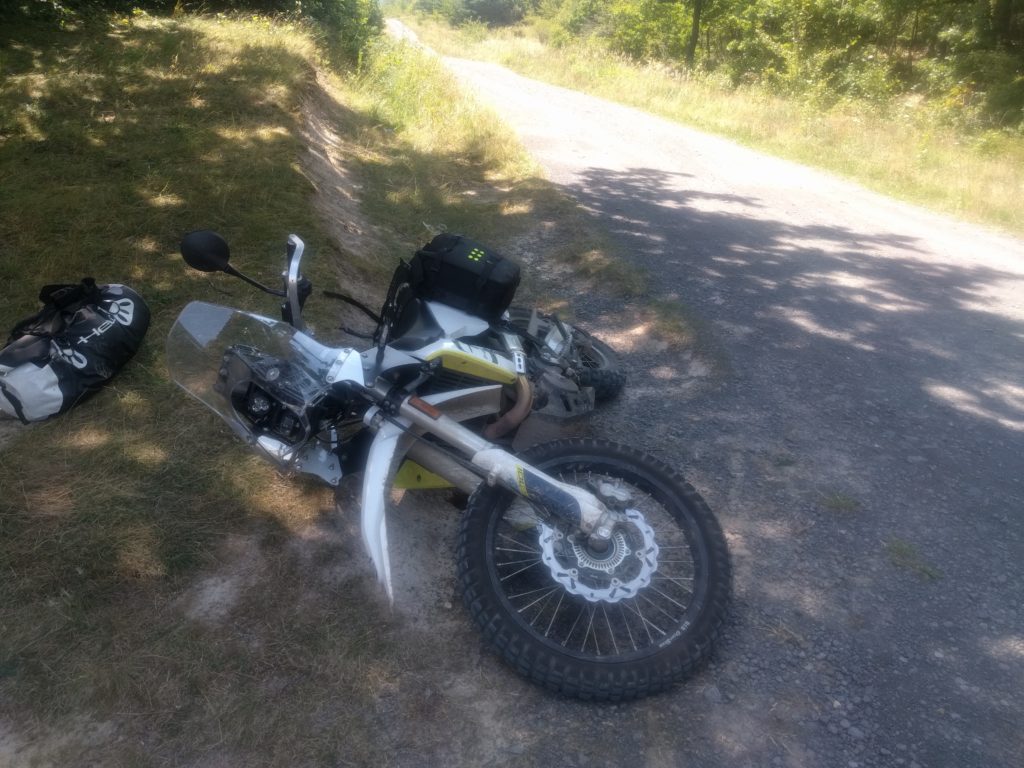 [My bike was tired here and had to lie down. I can't explain it otherwise.]
I found by sheer chance, two really cool trails here. The border to Slovakia is forested and unguarded. It is hardly marked. There are forestry trails criss-crossing this area, and you can only tell you are crossing the border due to some small stone markers. The trails are dense, numerous, and arbitrarily difficult.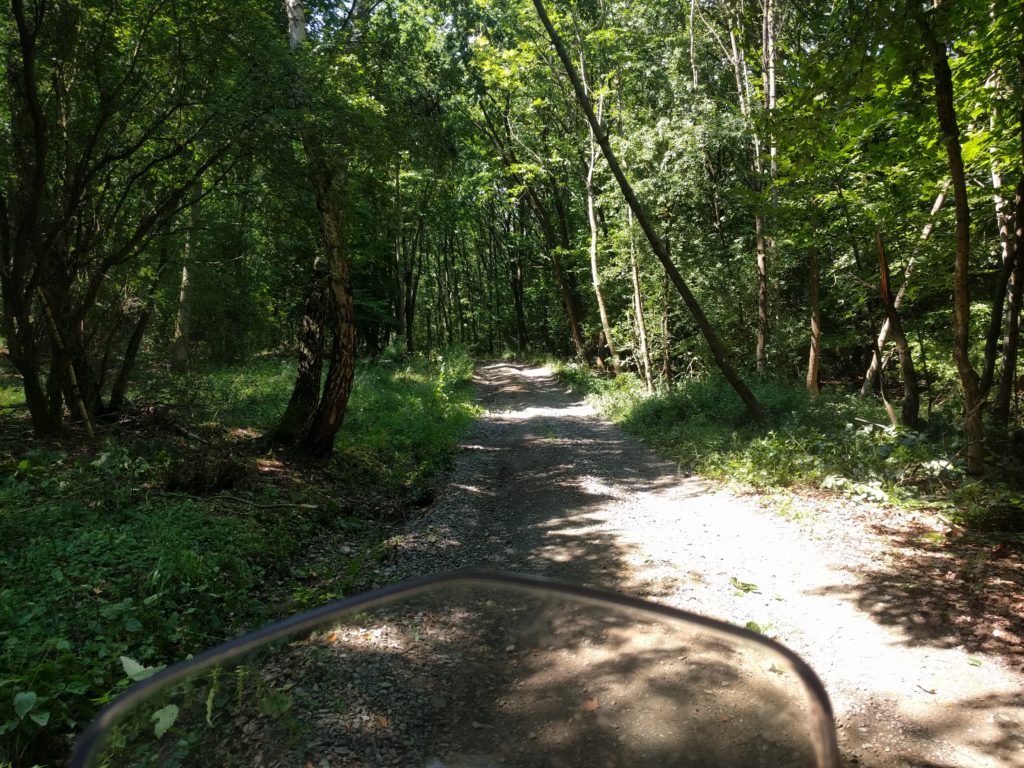 Some are pretty solid gravel roads used by the locals and the active forestry industry. At the other extreme are trails that are very steep and would be a challenge even on foot. And a lot of really perfect trals inbetween. Here one is never too far away from other people which was actually pretty nice on occasion.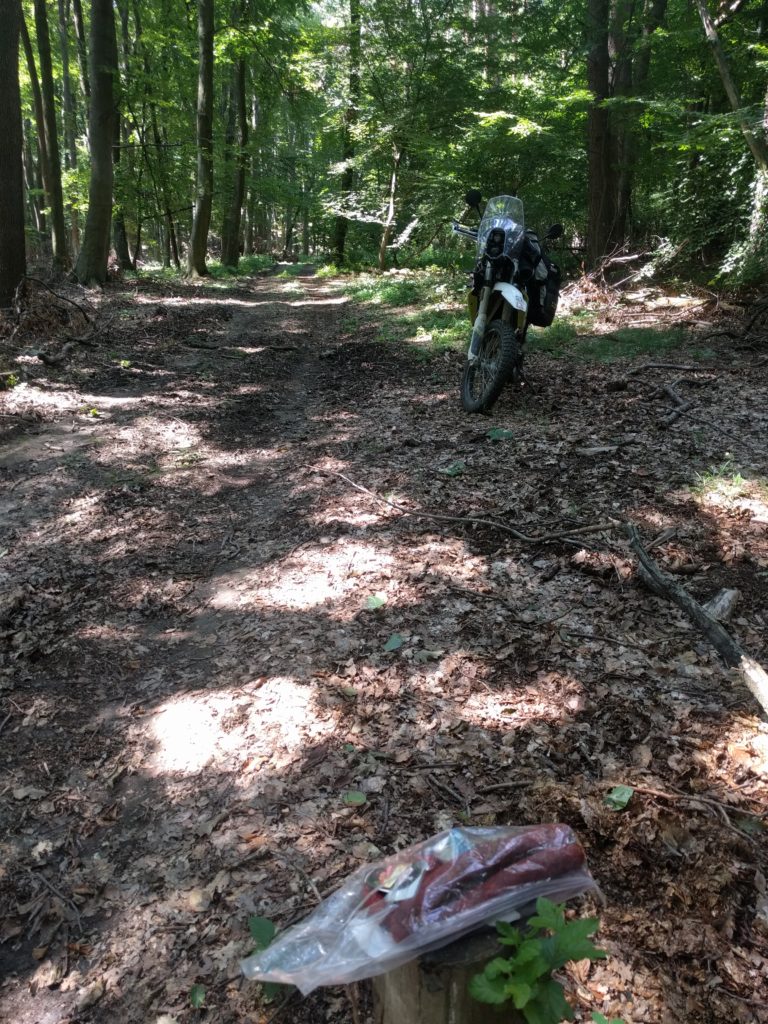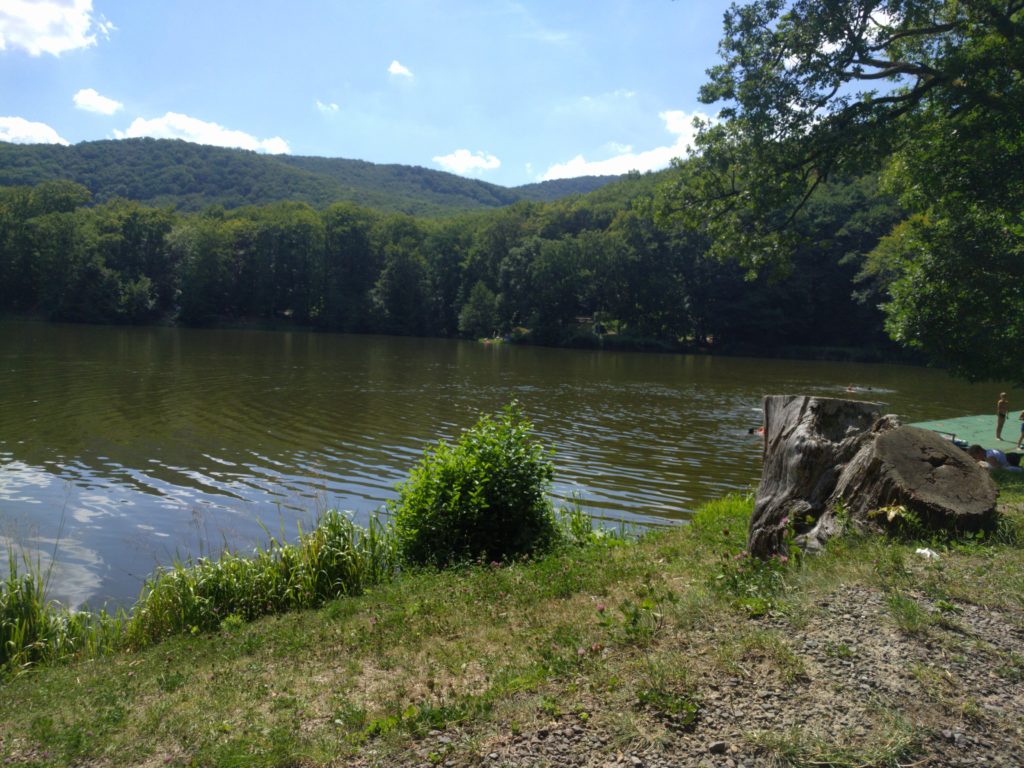 I ran across a small lake on the Slovak side where local childen were swimming, with a beer and langos joint just on the shore. Local people were super nice. I also saw several enduro riders enjoying the area.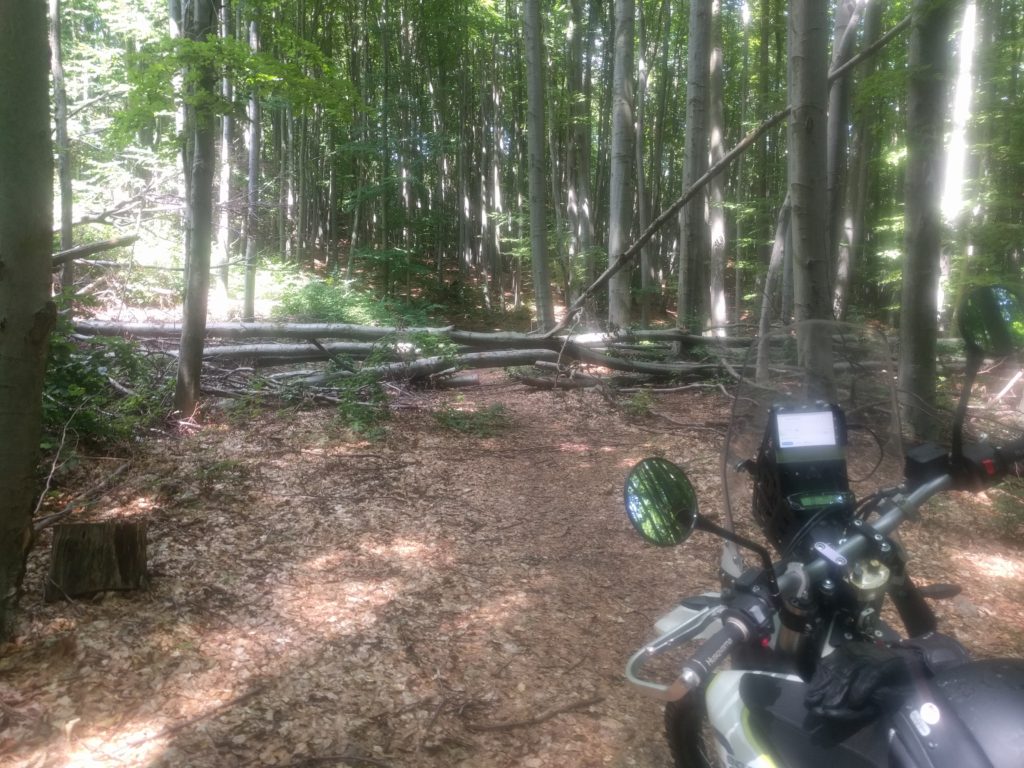 [Suboptimally placed logs.]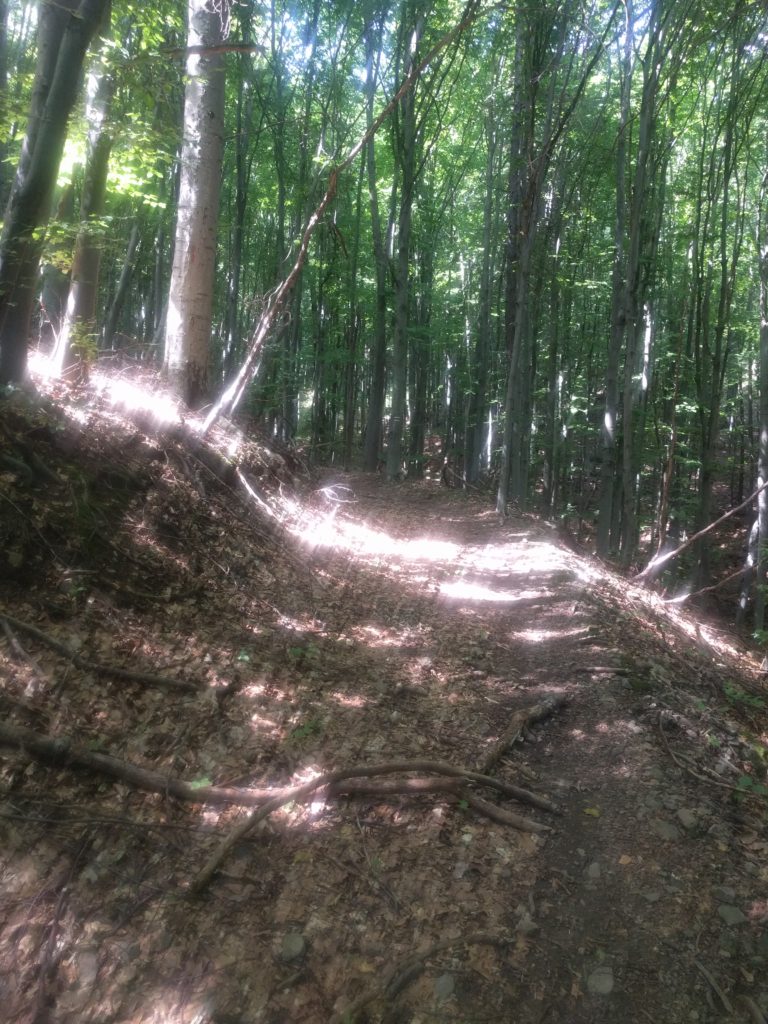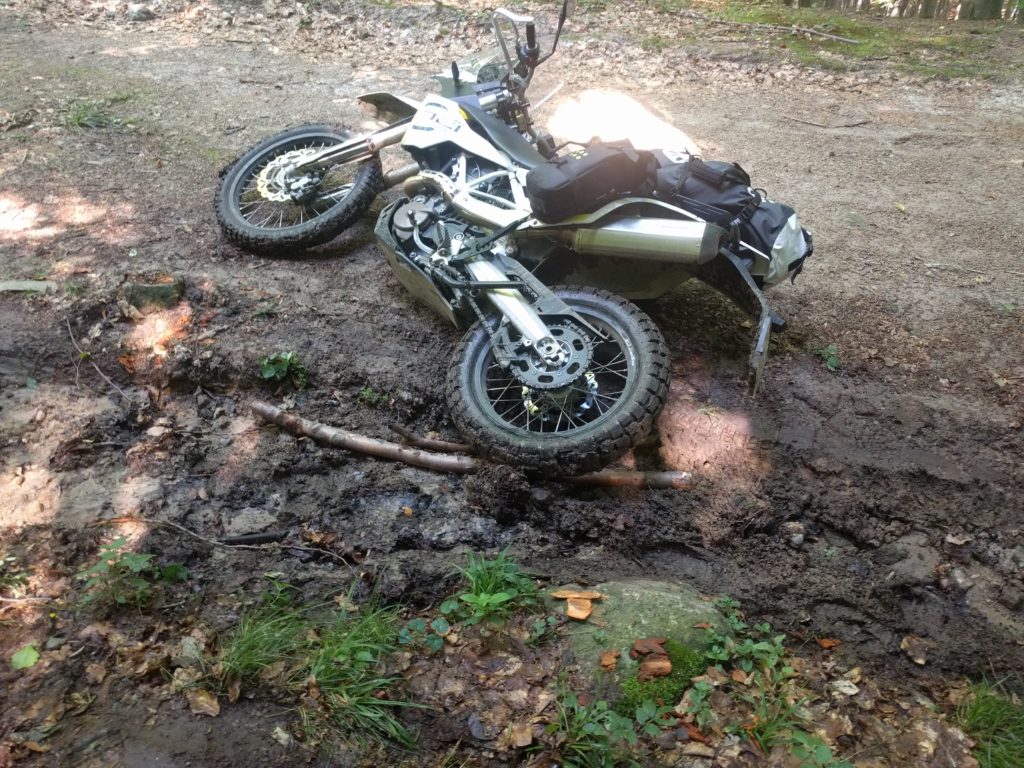 One time I got stuck in mud and just as I was trying to pull the bike out a friendly biker stopped and helped me out. It turned out to be Mr. Bariny of
http://bariny.sk/
, he not only builds custom scramblers in Bratislava, he also showed me how he can move maybe five to ten times faster than I can in technical terrain, on a heavy scrambler without much suspension.
[The only time I had to fix something: Some of the side paneling came loose.]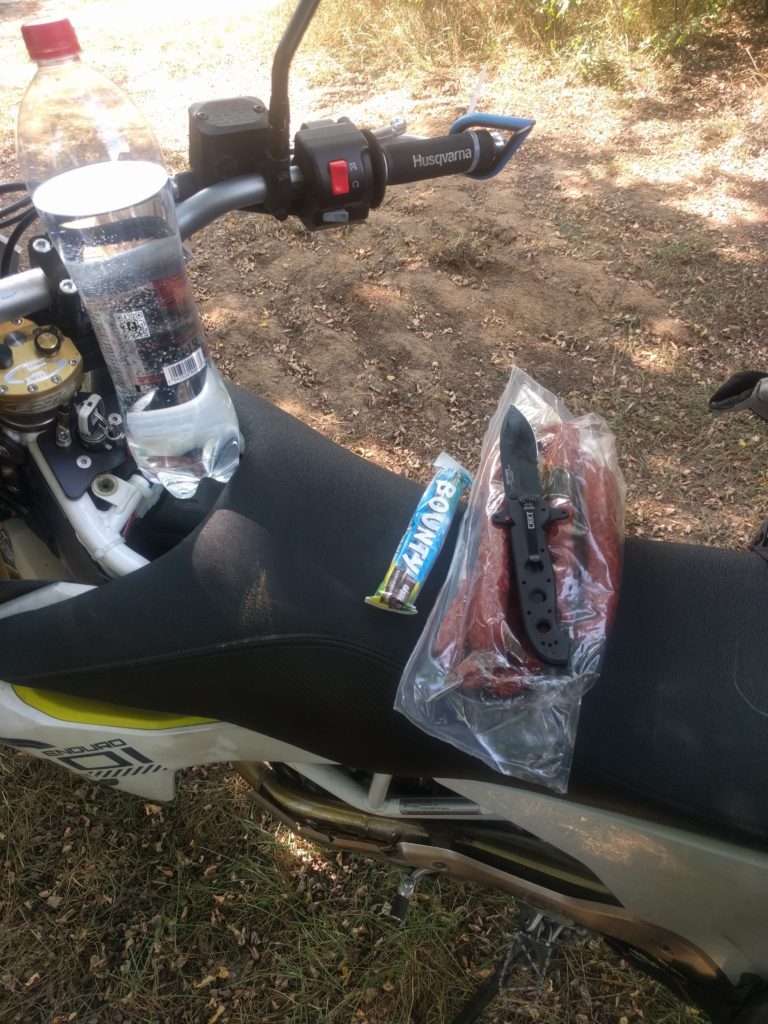 [Lunch]
I spent a second day in those forests. My last off-road day I entered a forestry road in Zemplen National Park, in Hungary. There was no sign even though I had the feeling that this course might have been meant to be off limits, because the deeper I went the more forlorn it became. After an hour or so of riding I also found myself in a very steep, remote place, yet infested with mosquitoes.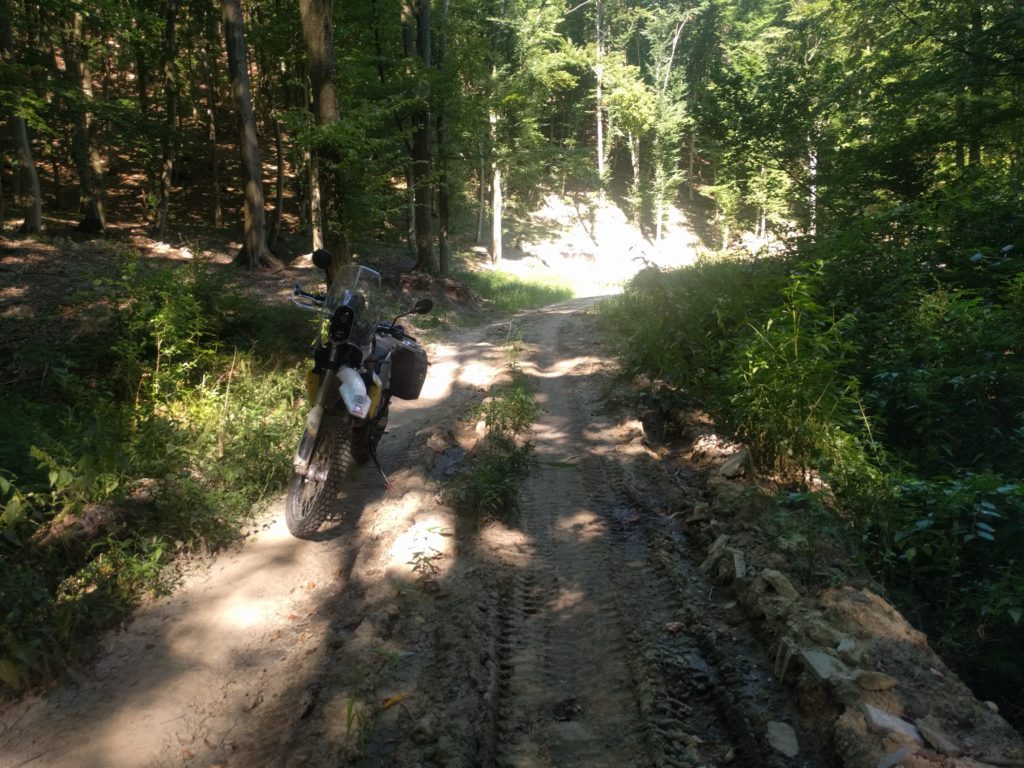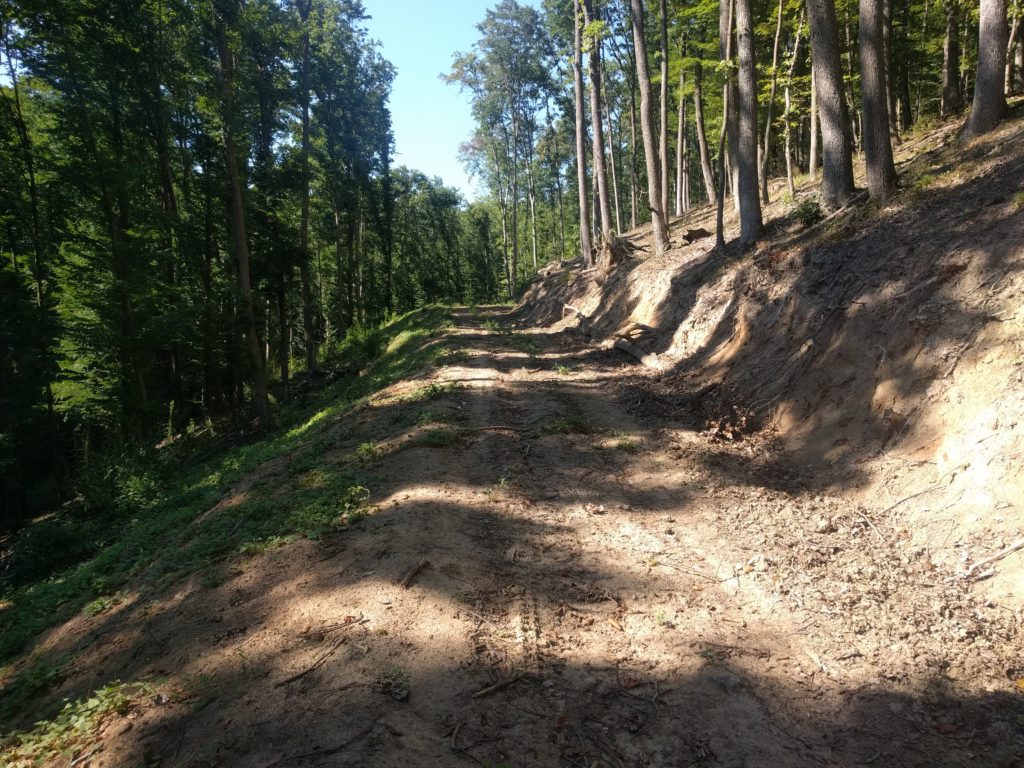 This was one of the hottest days of the year and it was quite unpleasant that I had to stay completely covered in order to fend off the little parasites. Here too I eventually decided that if my bike would for some reason refuse to carry me home I would be up for a very long hike getting back to civilisation, so I called it a day and turned around before making it all the way across the forest.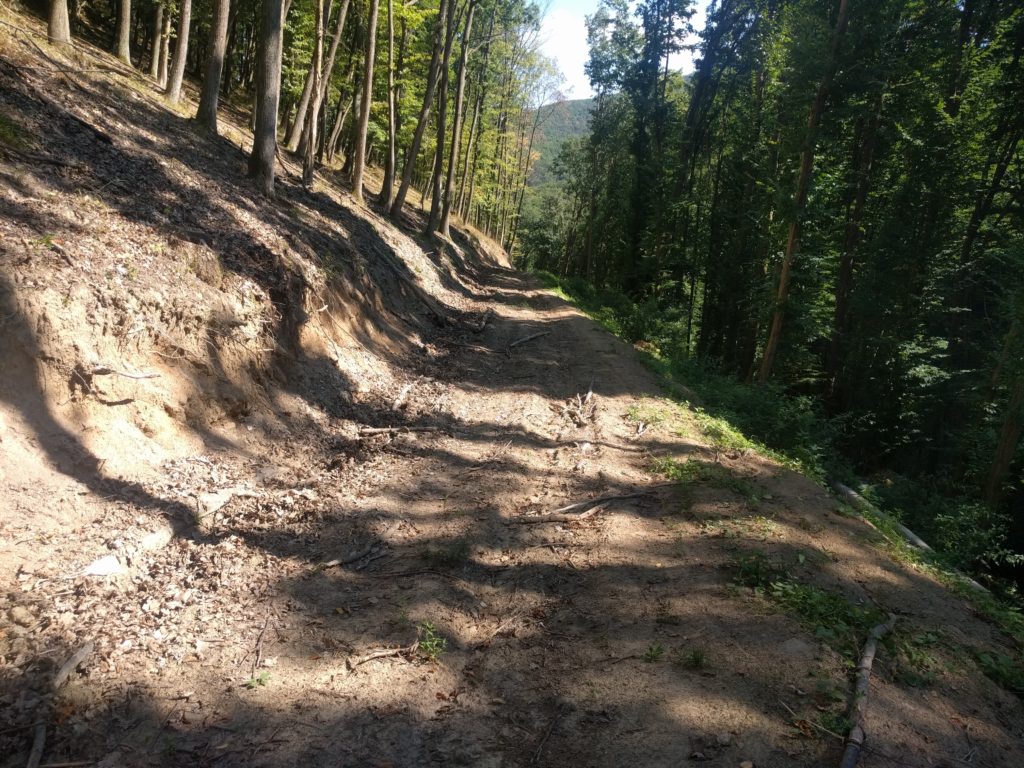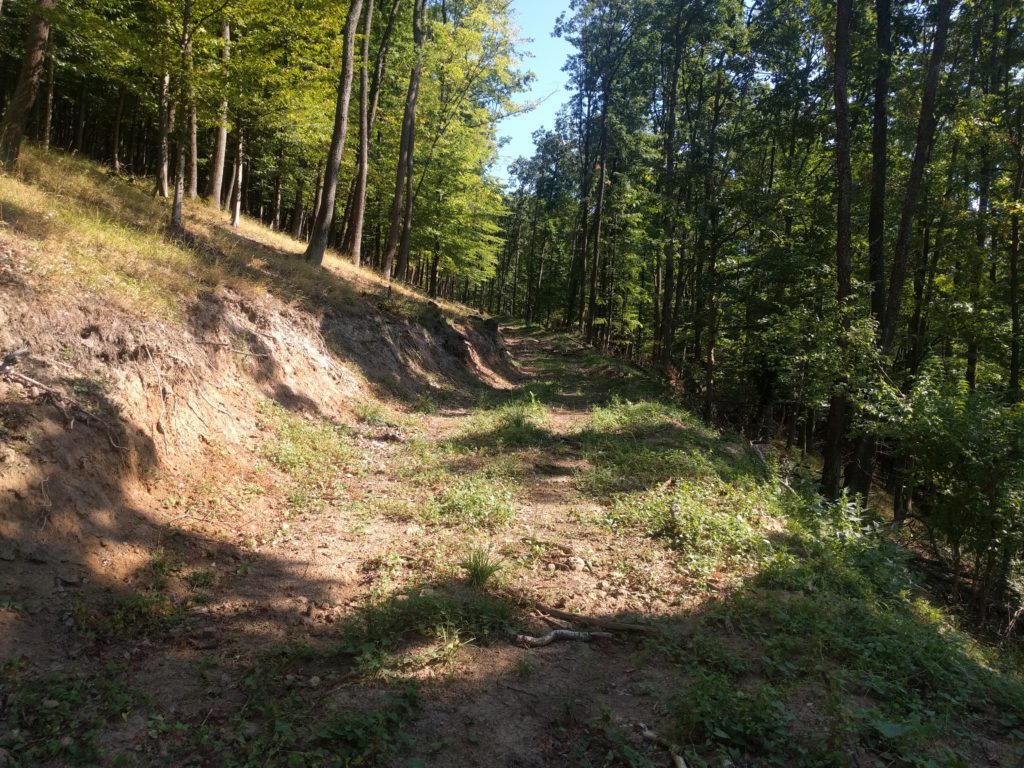 TET specific comments:
I was using OsmAnd on Android to follow the first days' or so worth of Romanian TET. I found the route to be accurate, mostly legal and generally doable with the one exception of the boulders blocking the road in the one place I photographed, but this was fixable with a small detour. If I could ask for one TET improvement it would be GPS-marked photos along the route to be made available so that people with little time available could pick out appealing portions of a route before getting there. On the other hand not knowing exactly what one gets does heighten the sense of adventure.