Moderator: Spietfriek
What method are people using to inflate their tyres after a puncture whilst in the trail?
All my opinions and comments are worth exactly what you pay for them.
Posts: 31
Joined: Thu Jan 11, 2018 4:21 pm
Location: Graz, Austria
x 4
I have a really small 12volt compressor with me. :)
Posts: 4
Joined: Sat Dec 02, 2017 6:52 pm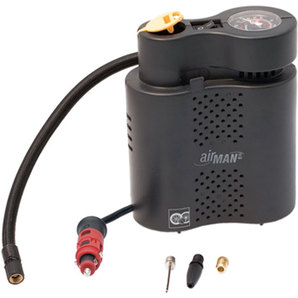 for years I use, airman electrical pump. Very suitable
Posts: 63
Joined: Tue Nov 07, 2017 7:23 pm
Location: Lommel, BE
x 22
little CO2 bombs to get me to the next gas station.
Posts: 1
Joined: Sat May 12, 2018 8:04 am
I use the motopressor. It's awesome


Sent from my iPhone using Tapatalk
I have a small compressor when I'm carrying luggage and a small MTB pump which is always strapped to the bike.
I also have a small mtb pump with me all the time, but after having to use it last weekend it will be just the emergency backup and duct tape holder in the future. I'm either going for a bigger one or take 3-4 CO2 thingies with me
I also usually carry some co2 and a mtb pump. I used to carry a small compressor as well ( an airman) but the problem with those small compressors is that they can't inflate the tyre enough to break the safety bead. I've seen great compact compressors like this one
https://bestrestproducts.com/product-ca ... -ez-gauge/
but they are quite expensive.
If you take the valve core out of the tube, a C02 should have enough umph to seat the bead
My inexpensive compressor (I think from German Polo or Louis) can pump the tyre and pop over the bead. I think you could technically pump upto 5 bar.

if you want to pump a tyre with CO2 cartridges, you should count at least 7 or 8 for a full fill (and more if you want to inflate without the valve insert first).